By: Andrea Mikaela Llanes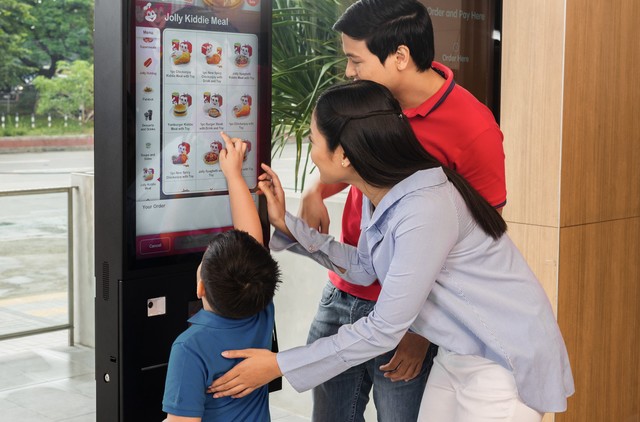 After roughly a year of being under renovation, the Jollibee branch along Katipunan Avenue opened its doors last November 5 as the first "Level Up Joy Store" in Quezon City. Aside from a complete revamp of the branch's interior design, Jollibee Katipunan also now features some of the leading fast food chain's recent innovations such as the self-order kiosks and wireless charging stations. 

Jollibee Food Corporation Chief Real Estate Officer William Tan Untiong claimed that the Level Up Joy Store of Katipunan was a symbol of the brand's "commitment to elevating dining experience," which he hopes is reflected in the store's redesign. Some of the new interior work of Jollibee Katipunan include vibrant murals that feature the beloved Jollibee mascot's worldwide adventures, sleek lighting and fixtures, and an increased seating capacity of 404.

However, the innovation doesn't end there; Jollibee Katipunan has also adapted a touch-to-order system. Jollibee first pioneered their self-order kiosks in 2018 with the purpose of making ordering meals more efficient. The kiosks' user-friendly interface is meant to ease the usual long lines with completely customizable orders, various payment options, and a queueing system for food claiming. To date, there are only 97 self-order kiosks across 37 Jollibee branches in the country.

In pursuit of customer convenience, Jollibee Katipunan also boasts of wireless charging stations on certain tables where diners may opt to charge their phones by simply placing their devices atop the terminal.

Jollibee is not only enhancing the dine-in experience but is also trying to improve the brand's commitment to its environment. In line with this, Jollibee Katipunan has introduced a more environmentally friendly and sustainable means of delivering their token langhap sarap meals to patrons at home: electronic bikes.

Through the support of the ECOS Environmental Foundation Inc. and the Department of Transportation, Jollibee Katipunan is now part of the roster of branches that will be utilizing road-legal e-bikes in its delivery service.

"In an industry as competitive as ours, Jollibee continuously finds ways to pioneer groundbreaking innovations that enhance customer experience and bring greater convenience to our patrons," Jollibee Philippines President JJ Alano assured at the ribbon-cutting of Jollibee Katipunan. "The Level Up Joy Store is the start of a new era for Jollibee and is part of our commitment to bring joy to our customers every step of the way – with our great-tasting food, better-looking stores, exciting innovations, and warm, personalized service."