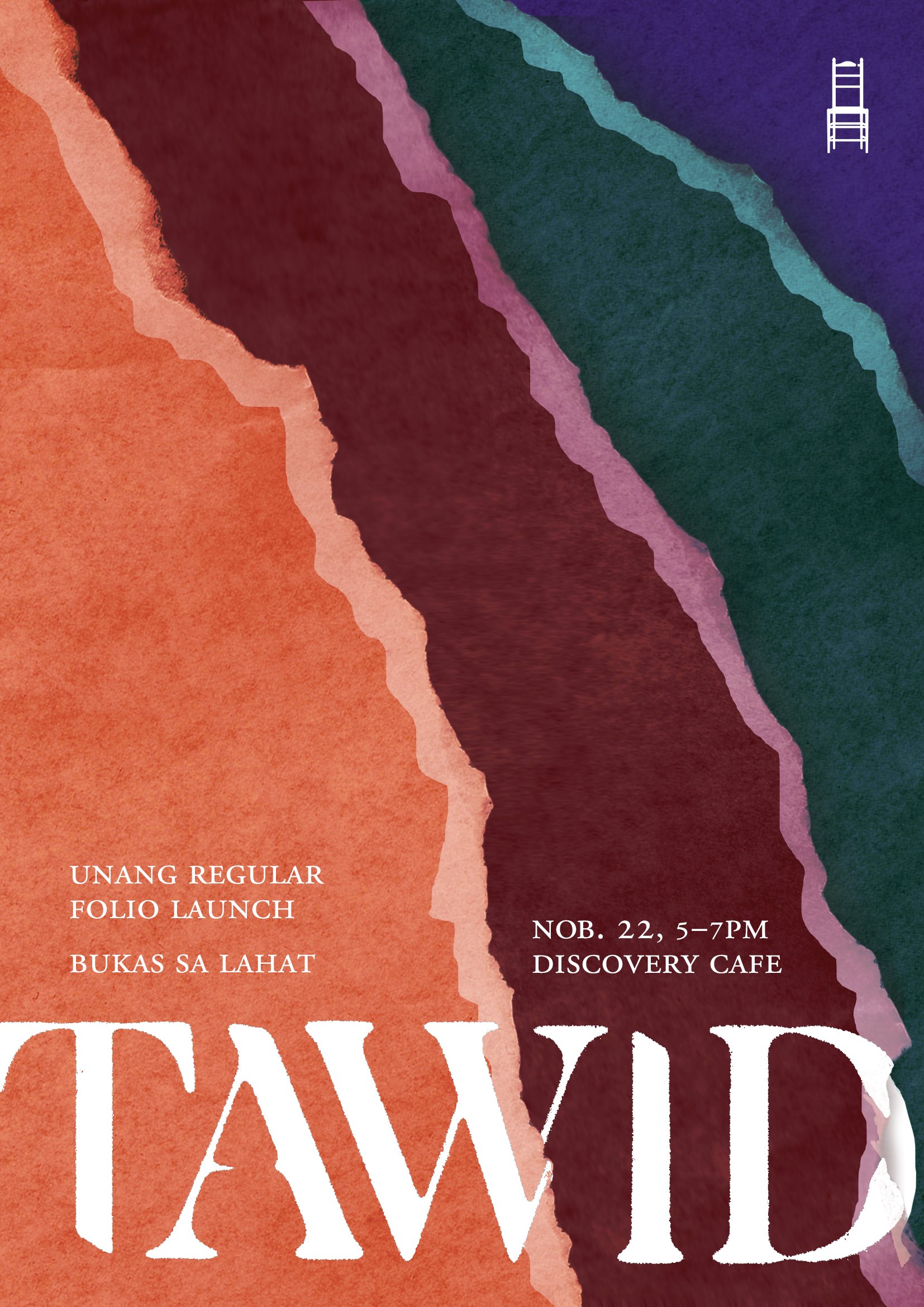 Last November 22, 2019, Heights Ateneo launched Tawid, its first folio of the year. People gathered in Discovery Café Katipunan to celebrate art and literature as the folio launch commemorated the contributors and their different artworks and literary pieces.
Now on its 67th year, Heights Ateneo, Ateneo De Manila University's official literary and artistic publication, released the first of two folios of the school year. Every year, Heights publishes two folios, one for each semester. The folios consist of literary and art works falling under a certain theme.
For this semester, the theme of the folio was Land and Ocean. Contributors presented different interpretations of the theme, interacting with the idea of how people shape land and ocean and conversely, how land and ocean impacts people. Through their take on how land and ocean influence the imaginary, contributors' works showed how politics is inherent in the production and dissemination of art and literature.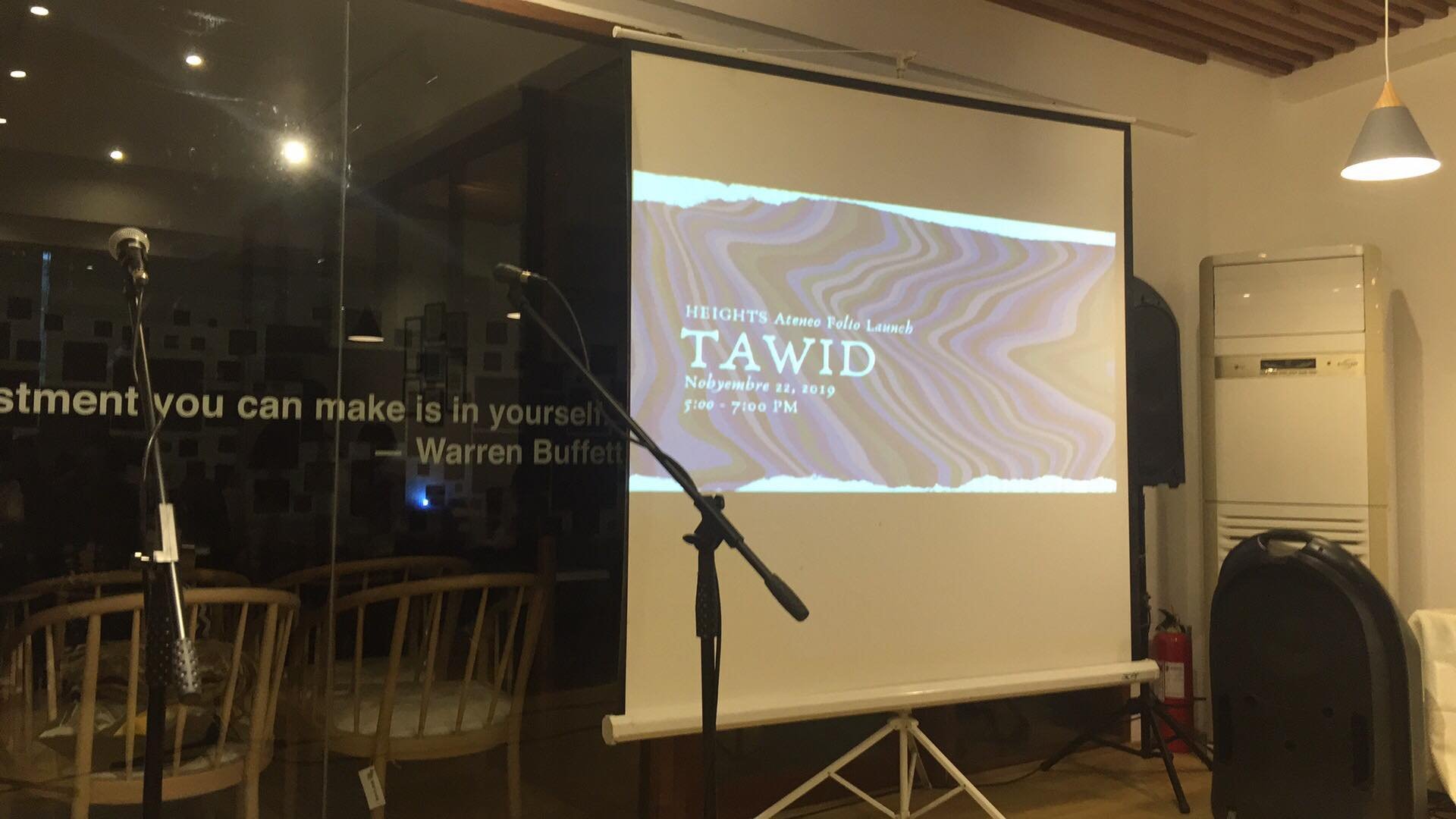 The launch was a culmination and celebration of these art and literary works. The event began with the opening remarks delivered by Heights' Editor-in-Chief, Patricia Sarmiento. In her speech, Sarmiento expresses Heights' goal of finding different avenues in which people are enabled to interact with art, literature and sociopolitical realities. She said: "This year, we seek to broaden the ways we engage with sociopolitical realities through the roles of art and literature".
The works featured in the folio each manifested a unique interpretation of the theme ranging personal to social, as well as abstract and concrete takes on land and ocean. Each artist had a story to share and surely, there is no one better who could have told these stories than the artists themselves.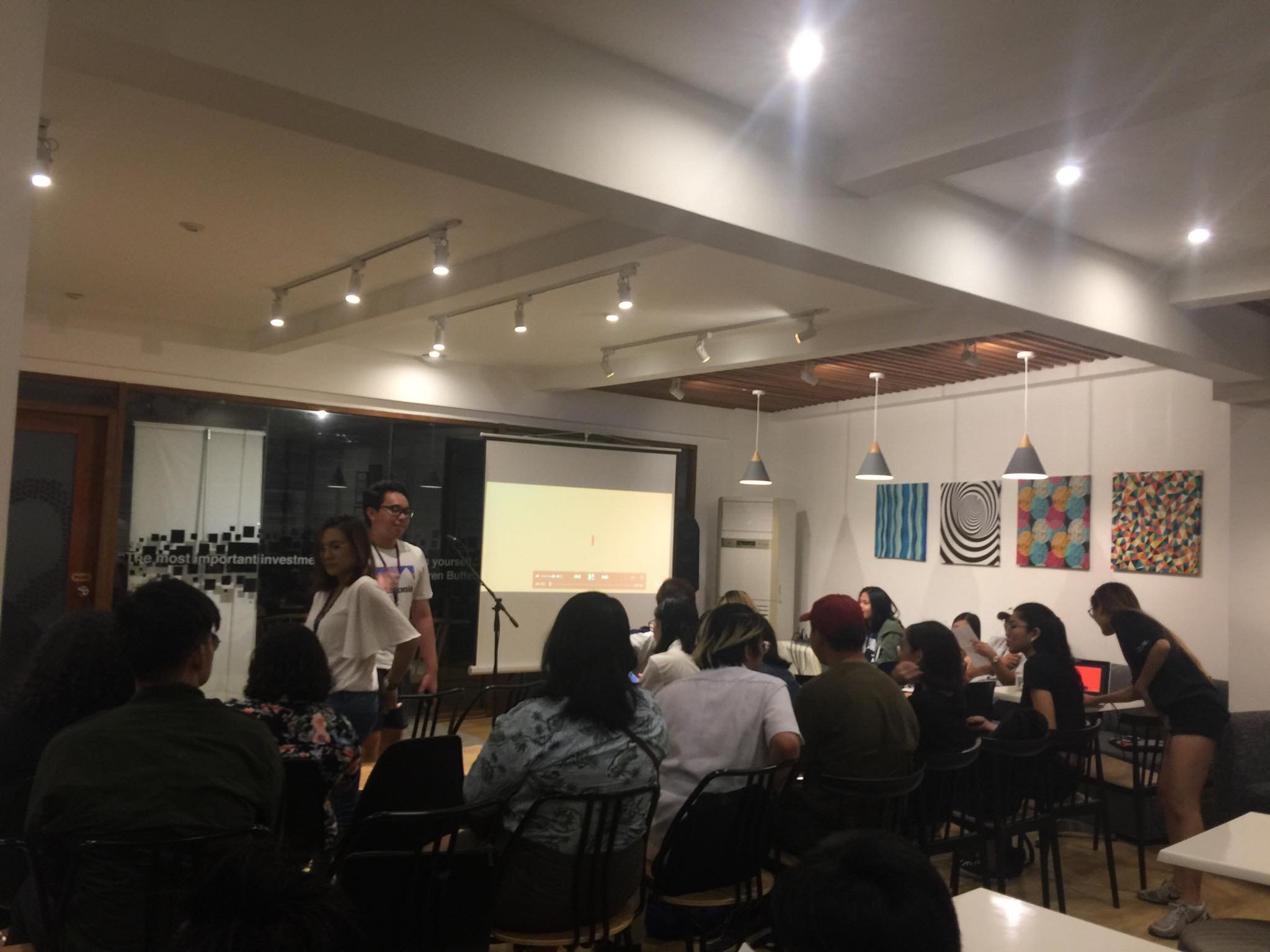 During the folio launch, the audience had the pleasure of hearing works from some chosen contributors in person. The night began with Richell Flores' "Barter Trade". With a simple yet striking 4-line poem, Flores proved that a poetry need not be lengthy to be meaningful or impactful. His piece focused primarily on the shift of trade from a cornucopia of culture, ideas and commodity to an avenue for territorial dispute and violence. Unique and strong, Flores' work was a reminder of the different changes that have shaped Filipino culture, "Sa pagbabalik-tanaw, makikita natin ang iba't ibang kaganapang humuhubog sa karanasang Filipino". (Looking back, we see the different events that shaped the Filipino experience). He shared to the audience his perspective on the role of writers saying: "Bilang manunulat, kapwa tayo may responsibilidad sa lipunan at sa pagpapaunlad nito." (As writers, we each have a responsibility to society and its development) Bringing it home, Flores imparted how his craft contributed to the political role of poetry. "Sumusulat ako bilang tugon sa katotohanan ng ating bayan at bilang tugon sa sariling pagnanais na magsulat." (I write in response to the reality of our country and in response to my own desire to write)
Following Flores, Kenneth Abante read his two poems "Nang humigop ako ng sabaw ng sinigang" (When I sipped the soup of sinigang) and "Nails of Gold". His poem, "Nang humigop ako ng sabaw ng sinigang" was a very personal piece. It resonated with the audience as it touched on the feeling of nostalgia and homey-ness of a warm bowl of the Filipino delicacy, Sinigang. Flores shared how he found inspiration in the works of Fr. Roque Ferriol and how his faith played a part in his craft. Exemplified in his poem, he imparted how he saw God in the simplest of things, even in something as mundane as a bowl of Sinigang. On the topic of his purpose in writing about the politics of his immediate world, Abante said "I write because I need to awaken myself from the sleep of humanity." In a society suspended in difficulty and strife, Abante left a reminder for people: "When we are numbed in this culture of death, we must take part in a culture that heals us."
Aisha Rallonza, the third contributor, presented her poem "The drive from Cabanatuan". After her reading, Rallonza recalled when she first did the piece for a poetry class two years prior to the launch. Originally made as a response to Anne Carson's Merry Christmas from Hegel, Rallonza chose to describe a three-hour drive to Cabanatuan. According to Rallonza, the piece was made to show how "Physical shape and our experience of it shapes the way we think". The most interesting thing about Rallonza's work is how she presented a different perspective on land and how people perceive things. She said: "Land might be a limit but it is also a path. And how we go through this path affects our mind."
The final contributor, Corinne Garcia, presented to the audience her interpretation of land and ocean through an artwork. Before she began explaining her work, she passed around her one of her two pieces, "public space pizza: eleksyon special". The audience was delighted as it made experiencing Garcia's art more meaningful because they got to interact with the actual artwork. Garcia shared that she was invited to create a work that came from the idea of pizza. In order to create a more meaningful piece, she launched off the political landscape, which at that time was election season. Garcia shared that she was accosted with political campaigns left and right and so she made her makeshift pizza from campaign materials that she was able to collect.  The central idea according to her was the concept of layering. "Everyone should be a part of public space. We should all have a say in it."
Garcia also explained her second piece entitled "The body stares back" which was a documentation of acrylic paint on fabric. She narrated how she bought a dress from an ukay-ukay and proceeded to paint eyes all over it. Her piece was strong, unique and truly made a resounding statement. It focused on the issue of catcalling and public harassment and was Garcia's way of making a rebuttal to this harassment. She said: "The body stares back" was done along the street of Katipunan and was my way of announcing my presence in the landscape of the city. It was a response to the catcalling and harassment in public spaces that I have experienced before."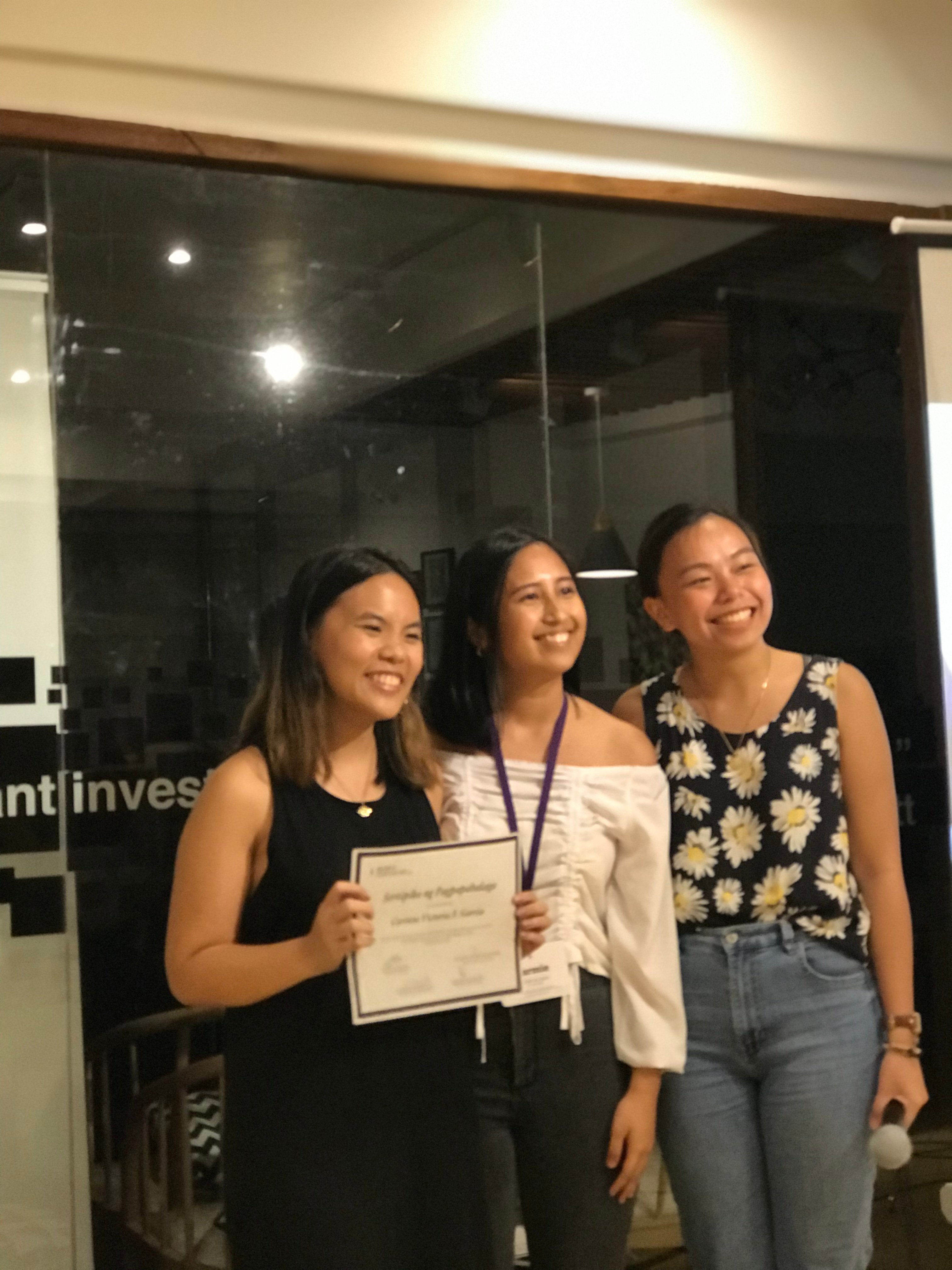 After the reading of works and a question and answer segment, the night capped off with a Mikaela Regis, Heights' Associate Editor-in-Chief. She reiterated during her speech that there is a lot that has been said yet there is still much to talk about in terms of pressing issues of humanity and morality. Regis said: "Marami nang nasabi, ngunit mayroon pang kailangang sabihin. Tinatanong ng Editorial Board namin kung ano ang mga pagbabagong kailangang gawin upang mas maging mabisa ang mga panawagan namin."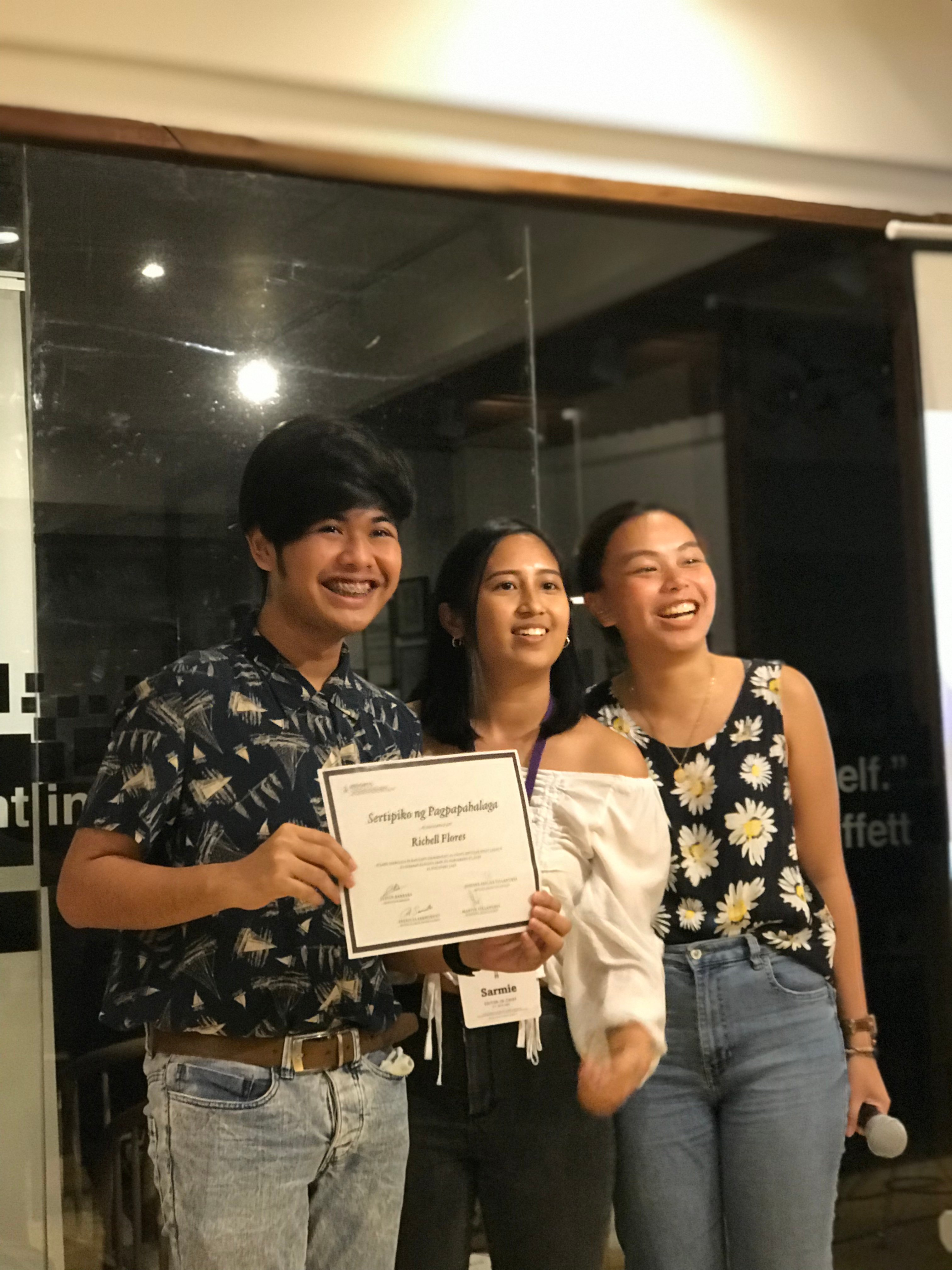 As Heights continues its discourse with social realities, it provides an outlet for not only artists and contributors but for different people to see reality and important issues through the medium of art and literature. Through its folio launches, Heights continues to uphold the value it gives to artistic and literary works, creating an environment for passion and purpose to thrive.